Pumpkin offers pet insurance plans for cats and dogs, as well as an optional non-insurance preventive care plan to help keep your pet in good health throughout their life. You can access veterinary services from any licensed vet in Canada or the US as the platform does not offer limitations on preferred doctors.
Overall rating
Summary: Pumpkin not only has extensive health care coverage but also an optional preventative care plan to prevent issues with your pet's health in the future.
Pumpkin

Reviews
Pros
Extensive insurance coverage
Preventive care plan option
Fast and simple online claims
No exclusions on breed or older pets
Discount on multiple pets
Short waiting period
Cons
Pre-existing health conditions not covered
Limited to cats and dogs
Features
| | |
| --- | --- |
| HQ | New York, NY |
| Policy | Pet Healthcare Coverage, optional non-insurance Preventive Care Coverage |
| Eligible Pet Age | 8+ weeks old |
| Annual Coverage | Up to $20,000 annual limit for dogs & $15,000 annual limit for cats |
| Reimbursement Rate | 90% |
| Medical Exam | Not a requirement for enrollment |
| Restricted States | Insurance is available in all states, optional preventative care plan available in 46 states |
In depth review on Pumpkin Pet Insurance
Pumpkin was founded in 2020 in New York after realizing that only 2% of cats and dogs are covered by health insurance in the US. It offers an optional preventive & wellness healthcare package that helps prevent issues with your pet's health in the future, which can help you save on medical costs and minimize trips to the vet clinic.
To help ensure that pet parents and their pets enjoy high-quality and reliable services, the agency has set up five principles that guide its operations. They include:
Pets come First: this principle requires pet parents, vets, and support staff to help ensure pets receive the best care always.
Trust the Pack: the principle focuses on empowering households to protect pets with reliable coverage.
Jump Fences: It helps them continue to look for the quickest way to ensure they receive medical attention during emergencies.
Share Toys: this means that if there's an opportunity to help others, they do.
Dig New Holes: The agency continues to seek new ways of improving pet healthcare.
Pumpkin Pet Insurance benefits
Extensive insurance coverage: Pumpkin offers extensive coverage on multiple health issues according to their website (please see fees and coverage section).
Preventive care: An optional preventive plan to keep pets happy and healthy. The optional preventive plan reimburses in full for an annual wellness exam, vaccines, and key tests.
Fast and simple online claims: Pumpkin is 100% mobile optimized for easy and fast filing of claims. To file your claim, you only need to log into your account, click on the claims option, fill in the details, and leave the rest to the claims team.
No exclusions on breed or older pets: Whether you have a purebred or mixed breed, the agency will consider your pet. Additionally, it does not offer upper age restrictions, giving you a chance to cover your pet even when it's old.
Discount on multiple pets: You can insure as many pets as needed on the platform. Once you have covered the first pet with the provider, you will enjoy a Fur Family Discount on every additional pet you enroll.
Short waiting period: It offers a 14-day waiting period before the coverage begins.
Pumpkin Pet Insurance drawbacks
Pre-existing health conditions not covered: Pets with pre-existing health conditions will not be eligible for coverage for those conditions.
Limited to cats and dogs: Pumpkin only covers dogs and cats. Exotic animals won't be covered.
Factors contributing to the overall rating
Policy application
5
The minimum age for enrolling your pet is 8 weeks, and Pumpkin does not provide any limitations on the maximum age. To enroll your pet, you are required to get a quote from Pumpkin's official website. You will need to input the following information:
Pet type: Dog or Cat
Pet name
Gender
Type of breed
Age
Once you have filled in this information, you need to enter your name, location, vet (if you have one), and email to receive your plan. You can choose between the standard insurance policy or the insurance policy with an optional preventive coverage pack added. To make your payments, you need to link your active debit or credit card to the digital platform.
Fees and coverage
4.5
Pumpkin pet insurance offers coverage for dogs and cats only. Members can determine their premiums by requesting a quote and a sample plan from the platform.
From the pumpkin website, www.pumpkin.care, they cover the following for dogs: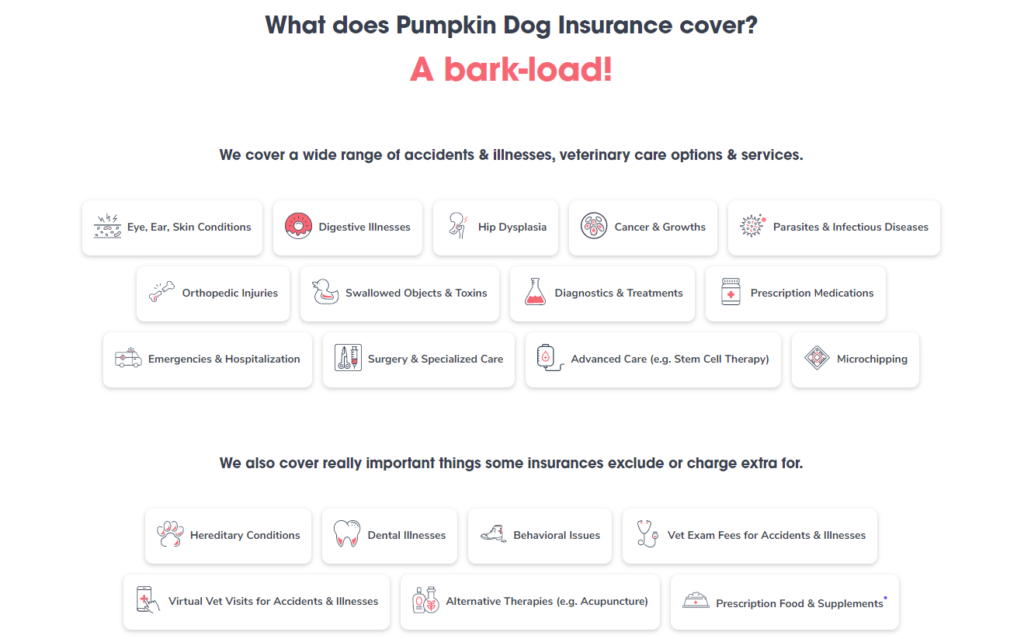 For cats they cover: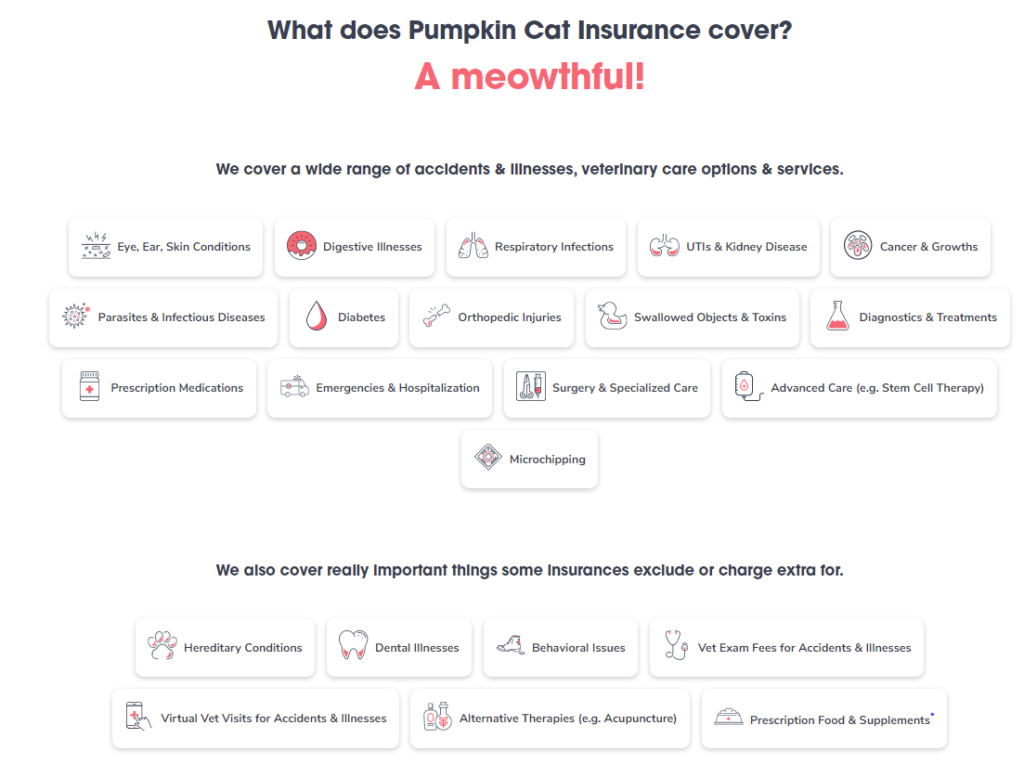 Claim support
5
The platform is 100% digitized, and all claims can be submitted electronically. When submitting a claim, ensure to include the following on the claim form:
Personal Information (i.e., name, contact, address, and signature)
Describe the condition (illness), and treatment received
Upload an itemized invoice for the costs incurred
The insurance policy requires that you must submit all claims within 270 days. Once submitted, the claim support team goes through your pet's medical records to verify the information provided and may ask for the vet's contact information.
Once you have taken your pet for preventive healthcare, you need to submit claims under the Preventive Essentials Claims option. The claims team will reimburse your money in full through echeck, check, or direct deposit. For their Preventive Essentials plan, there is no waiting period, and you can get reimbursed right away for those expenses.
Customer support
5
The customer support staff is always happy to address all your concerns. The platform has several customer support departments, including general and claim-related queries. Your concerns will be forwarded to the relevant department when you contact them.
If you also have questions or concerns on creating a plan that suits your pet's needs, the agency's support staff is willing to give you a hand. You can contact customer support through 1‑866‑ARF‑MEOW (1‑866‑273‑6369) or send an email to [email protected].
The agency operates from Monday to Friday (8 am to 8 pm) Eastern Time Zone. The platform also provides its Facebook, Twitter, and Instagram handle to interact with members.
Safe and secure
5
Pumpkin requires you to link your debit or credit card, which is a safe way to make payments on deductibles and premiums. During reimbursements, the agency uses direct deposits through ACH transfers or checks, ensuring that your money does not land into an unintended destination. It is also licensed and regulated by relevant US authorities in all states.
Is Pumpkin Pet Insurance right for you?
With the help of Pumpkin's preventative care coverage plan, it can help keep pets happy and healthy throughout their life. Additionally, you can see any vet in the US or Canada, meaning you can go on vacation between these two countries and visit a vet of your choice if an emergency comes up. Pet parents who want to insure more than one pet will find this platform attractive as it offers a Fur Family Discount on every additional pet, which helps you save more.
Prescription Food & Supplement Coverage Terms: Pumpkin insurance covers prescription food & supplements to treat an eligible accident or illness. It does not cover prescription food & supplements used for weight management or general health maintenance.
Pumpkin Advertiser Disclosure: Pumpkin Pet Insurance policies do not cover pre-existing conditions. Waiting periods, annual deductible, co-insurance, benefit limits and exclusions may apply. For full terms, visit pumpkin.care/insurancepolicy. Products, discounts, and rates may vary and are subject to change. Pumpkin Insurance Services Inc. ("Pumpkin") (NPN #19084749) is a licensed insurance agency, not an insurer. Insurance is underwritten by United States Fire Insurance Company, a Crum & Forster Company (NAIC #21113, Morristown, NJ) and produced by Pumpkin. Pumpkin Preventive Essentials is not an insurance policy. It is offered as an optional add-on non-insurance benefit. Pumpkin is responsible for the product and administration. Pumpkin Preventive Essentials is not available in all states. For full terms, visit pumpkin.care/customeragreement. Paid endoresement.